Welcome to the second block post
for the EPIC Harry Potter Quilt Along 2019!
If you already know what you are doing...
SCROLLLLLLLL DOWN.....
ESPECIALLY if this is your first visit to the Sew Fresh Quilts blog.
This is the SEW FRESH QUILTS version of the FREE Harry Potter Quilt Along quilt #HPQAL2019 as shown below...
If you are looking for the OTHER QUILT,
that looks like this one below,
How do you make sure you don't miss any of the instructions for the Sew Fresh Quilts FREE Harry Potter Quilt Along?
FeedBurner will then send a confirmation message to your email.
You must click the verify link within that message to start your subscription.
How can you be certain to never miss a thing?!!!
Follow me everywhere!

Today is Week Two in the Block instructions for piecing the Hermione Selfie block!


To download the Piecing Methods and General Instructions printable PDF, click here.
Jasmine and I have been testing the blocks here in the Sew Fresh Quilts studio. And, aside from the background fabric, we are working from stash. She is making the 20" Full size blocks. And I am making the 10" Half size blocks.
These are our HERMOINE SELFIE TEST BLOCKS
Hermione Selfie by Sew Fresh Quilts
To download the HERMIONE SELFIE printable PDF, click here.
Affiliate Link for bluprint:
Get a FREE project box with an annual Bluprint subscription now! Details below.
---
FREE Project Box with Bluprint Subscription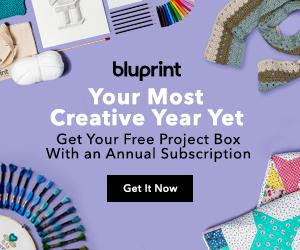 Join Bluprint For Just $100 & Get a Free Project Box!
(through 1/31)
Join Bluprint For Just $100 & Get a Free Project Box!
For just $100 a year, you can join Bluprint and get a year of unlimited access to classes, 12 classes to own forever, a free project box and free shipping on supplies. Choose from maker favorites like quilting, knitting, and cake decorating — all of the supplies you need for your first projects on us!

Coupon Code: No coupon needed.


Expiration Date: 01/31/2019 11:59pm MST

Restrictions: One (1) redemption per email address 12/15/2018 12:01AM Mountain Time through 1/31/2019 11:59PM Mountain Time. Annual subscribers will receive their selected Starter Box via mail after subscription. Starter Box offer limited to US only. Offer cannot be combined with other offers, and is not redeemable for cash. Free shipping is only available in the U.S. You can cancel at any time, but your annual subscription will remain active for the full period and prorated refunds will not be offered. Subject to additional terms, see full details at checkout. Bluprint may end or alter this offer at their discretion.
How else can you have fun and follow?
You can find us all over social media!!!!
Push my buttons, please!
Keep On Quilting On!