Welcome to the
Introductory Post
for the upcoming Harry Potter Quilt Along!
ESPECIALLY if this is your first visit to the Sew Fresh Quilts blog.
This is the Introductory post for the SEW FRESH QUILTS version of the FREE Harry Potter Quilt Along quilt #HPQAL2019 as shown below...
If you are looking for the OTHER QUILT,
that looks like this one below,
How do you make sure you don't miss any of the instructions for the Sew Fresh Quilts FREE Harry Potter Quilt Along?
IS THERE A SIGN UP PAGE?
HOW DO I FOLLOW ALONG???
There is NO actual "SIGN UP" for the Harry Potter Quilt Along. To be sure to catch all the block posts you should sign up to follow my blog by email.
Choose to follow by email
And get Sew Fresh Quilts blog posts delivered straight to your inbox!
Enter your email address in the box below and click on Subscribe.
FeedBurner will then send a confirmation message to your email.
You must click the verify link within that message to start your subscription.
How can you be certain to never miss a thing?!!!
Follow me everywhere!
THE Harry Potter Quilt Along page is under construction.
The links
will become live
for the information and block instructions as they are posted.
Pay attention to the dates on the schedule and check back as more links are added.
It's really all about the fabric.
PLEASE NOTE:
I have updated the size options.
Using the full size 20" square blocks in this quilt setting,
the blocks are set with 1" finished width sashing between the blocks and rows,
and with 1" finished width borders, for the 85" x 106" size quilt.
HOWEVER, because you may wish to add wider side borders to increase the final width of the quilt to be suitable for a queen size bed, I adjusted the options to include 106" x 106" size option.
Print both of the PDF's found below.
Here you will find the UPDATED Downloadable PDF Cover file with provides information on the Quilt Size Options and the Fabric Requirements
Click here to download COVER PDF
Here you will find the Downloadable PDF Finishing file which provides information on Cutting for Finishing Background and Binding
Click here to download FINISHING PDF
What fabrics are we using?!!!!
Jasmine has been using whatever she can find in my stash to make the blocks. PLUS we picked De La Luna Clair Batty by Tula Pink for FreeSpirit Fabrics for the background.
We are gonna be starting to test the
#
hpqal2019
blocks soon! This is our background fabic. De La Luna Clair Batty by
Tula Pink
for
FreeSpirit Fabrics
🦇
Gotta admit I'm pretty excited!!!
Background Fabric?

For the first 7 weeks you don't even NEED to have your background fabric yet.
There is no use of background fabric in the construction of the first 7 blocks. YES. That's right. You don't need to PANIC. And you are welcome!
Flesh tones?

Why is everyone having so much trouble choosing fabric for faces?
We are using KONA scraps left over from making from the
Teenie Weenie Bikini
quilt. Use any beige, tan, neutral you like. Prints would work too!
If the fabric requirements list a 1/4 yard...
Can it be a fat quarter? Can it be a long quarter? Yes. and yes.
Piecing Methods?
This Harry Potter quilt along uses traditional piecing methods. NO PAPER PIECING. NO APPLIQUE.
Want to save money on fabric?
Clinton Modern Creative has a special offer for those of you participating in the quilt along. You will save
15% off your entire purchase using the code
HPQAL15 at checkout. Offer valid until June 30th, 2019.
She has some great Libs Elliott fabrics that would look great in an EPIC Harry Potter quilt. Click here!!!
Want to find a kit to make the quilt?
How about some Harry Potter flannel backing?
Mad About Patchwork has a solids kit for anyone who needs fabric choices made easy. And they also have this Harry Potter flannel that would make a cozy backing!
While supplies last!!!
Get a FREE project box with an annual Bluprint subscription now! Details below.
---
FREE Project Box with Bluprint Subscription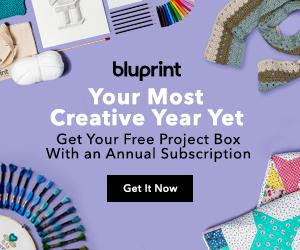 Join Bluprint For Just $100 & Get a Free Project Box!
(through 1/31)
Join Bluprint For Just $100 & Get a Free Project Box!
For just $100 a year, you can join Bluprint and get a year of unlimited access to classes, 12 classes to own forever, a free project box and free shipping on supplies. Choose from maker favorites like quilting, knitting, and cake decorating — all of the supplies you need for your first projects on us!

Coupon Code: No coupon needed.


Expiration Date: 01/31/2019 11:59pm MST

Restrictions: One (1) redemption per email address 12/15/2018 12:01AM Mountain Time through 1/31/2019 11:59PM Mountain Time. Annual subscribers will receive their selected Starter Box via mail after subscription. Starter Box offer limited to US only. Offer cannot be combined with other offers, and is not redeemable for cash. Free shipping is only available in the U.S. You can cancel at any time, but your annual subscription will remain active for the full period and prorated refunds will not be offered. Subject to additional terms, see full details at checkout. Bluprint may end or alter this offer at their discretion.
How else can you have fun and follow?
You can find us all over social media!!!!
Push my buttons, please!
Keep On Quilting On!